NEW YORK–Since Kenney Manufacturing diversified from drapery hardware to hard window coverings in 1981, it has gone from being an exclusive mass merchant resource to a steadily growing factor in department stores where a whopping 60 percent of its mini-blinds are sold.
Kenney now does about 35 percent of its overall sales with department stores and the firm is looking to increase that figure, according to Bill Uecker, senior vice president.
"Our strategy was to expand the department store business several fold," said Uecker, the former president of Joanna Western Mills who joined Kenney in 1981.
Shortly after his arrival, Kenney went full force into the blind and shade business. That opened the door to department store business and gave the company a hefty 30 percent volume increase in 1982.
Kenney diversified into roll-up shades, window shades and imported woven wood shades in 1981. In the summer of 1982, Kenney introduced its first stock mini-blinds in both vinyl and aluminum and set up a manufacturing facility in its home base in Warwick, R.I., for aluminium blinds. The vinyl blinds are imported.
Trade sources estimate the company's total volume to be in excess of $70 million. Just over half of Kenney's business is done in drapery hardware and the remainder is done in woven woods, shades and mini-blinds, said Uecker. Growth in blinds
The company expects to increase its volume by 25 percent this year, he added. The firm is looking for growth in both department stores and mass merchants, said Uecker.
Some of that growth will result from two new products introduced at the November market. They are a stock pleated shade, which Uecker prefers to call a pleated blind, and a line of stock wood mini-blinds. Both items are imports but, by the middle of this year, Uecker reported, Kenney will manufacture its own pleated blind domestically.
"We're three years away from maximum sales of the pleated blind, but I just think it's an education process that will occur," he said. "People haven't been exposed to them enough, but in two or three years that process will be complete," he added.
Pleated blind
"I think the pleated blind will become another staple of the American scene like the mini-blind," said Uecker. He predicts that the imported pleated shade will eventually fill the niche of the vinyl mini-blind and that domestically manufactured pleated shades will be high demand items in department stores.
But at the moment, it's Kenney stock mini-blinds that are becoming a growing staple in department stores and are best-sellers in many of them across the country. Stock options
Although Kenney has a small percentage of the total mini-blind market, which is dominated by Levolor, Hunter Douglas and Bali blinds it is gaining leverage in the department store arena because it originally approached the market with a stock product, said Uecker.
Kenneth was never in the custom mini-blind business like the three amjor producers and reacted faster to demands for a stock product than they did, Uecker said.
He said that Rainbow was probably one of the first companies to introduce the stock blind with Kenney and Clopay following soon after.
Although Kenney's mini-blind market share is not great, in recent HFD surveys charting best-selling mini-blinds in department stores, Kenney blids are mentioned frequently.
"One reason for this was our timing in picking up the stock concept and another is that we offer 16 colors in stock sizes," said Uecker. Most stock mini-blinds are only available in a narrow selection of colors, but Uecker said some department stores are able to stock and sell as many as 10 colors of Kenney mini-blinds with the remainder available as special order. Promoting is key
"More and more stores are putting in more stock in various colors," said Uecker, adding that many of Kenney's blinds are merchandised on the selling floor.
Uecker isn't too worried about the heavy discounting that has become the norm for stock mini-blinds. "If you continue to promote blinds and tell a fashion story at the same time, the only way way can go is up," said Uecker. Kenney vinyl blinds normally retail from $17.99 to $19.99 whiel aluminum blinds are promoted at $30 for all sizes up to 36 inches.
The majority of Kenney's aluminum blinds are sold to department stores. Suprisingly enough, so are the bulk of Kenney vinyl blinds. "We will continue to sell vinyls to department stores as promotional items," said Uecker. When they choose to, they can later trade up to aluminum blinds, he added.
Vinyl blinds were not initially intended to be mass merchant items and Uecker said he knew that department sotres would have to pick them up before the mass merchants caught on to them.
"Department stores are always looking for something new," said Uecker. "Mass merchants don't react as quickly to a new product," he added. Uecker does, however, predict that vinyl blinds will eventually become obsolete in department stores and will find their home with mass merchants. Colors important
"No one can tell a color story like a department store," said Uecker. More of them are setting up multicolor display walls, he added, noting that the mass merchants' strength will be mostly in white and ivory vinyl blinds.
One New York department store started out carrying white and ivory aluminum blinds and no stocks all 16 colors, said Uecker. Most, however, prefer to special order the uncommon colors, he added.
Kenney does have a limited custom program for its aluminum and wood blinds and plans to have a similar program for its domestically produced pleated shade. The custom programs are limited in color selection and not widely promoted but are available from stores that carry Kenney stock blinds.
The company's wood blinds are now being sold only to department stores, but Uecker said that eventually mass merchants will follow the lead of department stores and carry them too.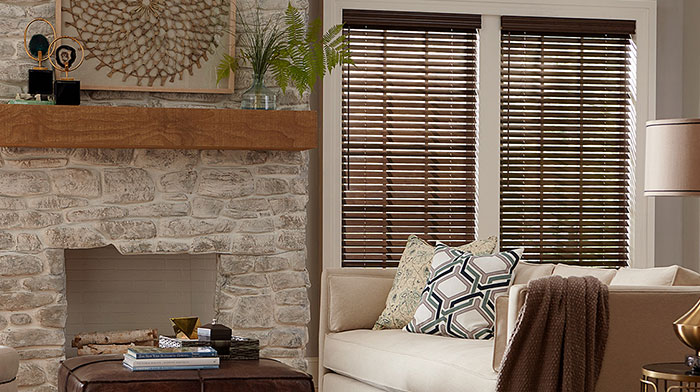 Wood blinds
Currently under development at Kenney is a track system for vertical blinds. A complete stock vertical blind program will be introduced this fall, said Uecker.
"For the first time in years we're seeing encouraging signs in the drapery hardware business," said Uecker, adding that this traditional business for Kenney will account for some of the company's growth in the coming year.
Not only are climbing sales in this area due to a renewed interest in draperies, but "we're gradually establishing our drapery hardware in department stores," said Uecker.
"We hadn't marketed our drapery hardware until now in department stores because it's a very different kind of sale than blinds," he said. "A department store usually has one or two suppliers of hardware and it's never made sense for them to change that," he said.
"But now that we can supply the department store with multiple items there is a sense in having an overall program with us, including hardware," said Uecker.
One hardware item, a new adjustable country curtain pole set, was introduced at market and met with enthusiastic responses from buyers, said Uecker. The pole is made of an adjustable seam lock steel tube with decorative wood brackets on the ends.